April 2016 Wayne Readers' Recommendations
We want to hear from you. Please send a blurb about something you've read and want to share with CML.  Next posting will be in April. Send your recommendations to                          jadelberg@cary-memorial.lib.me.us                                          
 This month's blog has 20 entries from enthusiastic readers.  Try sampling some of these selections before spring gets in the way.
Fiction
Marriage of Opposites by Alice Hoffman. (Historical Fiction) This one is historical fiction to warm the winter soul. A huge multilayered story nestled on the Island of St Thomas. Characters so well developed that I felt I knew them. I rose early each morning to journey with them through love, sorrow and a quest for happiness.  Reviewed by M.T.Clark
East of Eden by John Steinbeck. I do think it was well worth the time and energy it took to read this amazing story about forgiveness, especially during this time of Lent in the Christian year.         Reviewed by Jill Howes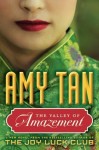 The Valley of Amazement by Amy Tan. I read this book based on Judy Danielson's recommendation and I am grateful to her for it. This was good historical fiction. I have read a few other books by Amy Tan and this is like the other great novels she has written. It's a powerful, emotional story of two women, mother and daughter in early 1900's mostly in Shanghai and their heartrending struggle to survive in a caste system.                               Reviewed by Barrie Colbath
Breakdown by Jonathan Kellerman. This Kellerman "who-done-it" has some of the usual cast of characters but has so many twists you must stay engaged not to be lost. An experience worth taking.     Reviewed by Steve Dodge

What She Knew by  Gilly Macmillan. This mystery is a good read. The Dr. and James Clemo's therapy sessions can be skipped without loss. The blogs don't add much either.
Reviewed by Steve Dodge
I Am Pilgrim by Terry Hayes. This is a spy thriller novel that is normally not my cup of tea, but I found it mesmerizing. As Susan Coady said, it's a bit like Dan Brown's "Da Vinci Code", but even better. It's the "can't put it down" type story with a twisted plot and an appealing main character. Its many pages, 600 +?, but well worth it.  The writer is excellent with his character development, superb writing, and amazing story. I highly recommend it.                  Reviewed by Barrie Colbath
Bruno, Chief of Police (series) by Martin Walker. (Mystery) Martin Walker mystery series featuring police chief Bruno. Author Martin Walker is an international affairs professional who lives part time in southern France, in the Dordogne region. Reading this series takes you on a slow tour of the area.  Historical and political issues are featured.  The local wines are discussed at length, as is the cuisine – in fact recipes are available on the website  –  www.brunochiefofpolice.com. I've developed a greater understanding of the complex cultural issues there, as well as understanding better how the French Resistance functioned during WWII, and how current events are now shaping events there. If you enjoy being enthralled with a mystery featuring very appealing characters and learning a lot about a particular region of the world, pick up one of these mysteries. The title mentioned is the first in the series.                                                                                                       Reviewed by Judy Danielson
The Storied Life of A.J. Fikry by Gabrielle Zevin. This is a short, delightful read. Another book that Susan Coady recommended ( I always like what she suggests…). A.J. Fikry reminds me of Ove ("A Man Called Ove" by Fredrik Backman). Both men are grieving widowers who have given up, but life gets in the way. A. J. owns a bookstore on an island and loves books and great stories, and since I love books, this just adds more sparkle to this book. The tale starts to spread to others on and off the island who get caught in the snare of good reads. Zevin is an excellent writer with a quirky style that I found immensely appealing. If you can't tell already, I recommend this little book.                                                                     Reviewed by Barrie Colbath
Battleborn by Claire Vaye Watkins. (Short Stories) This is an excellent collection of stories.  Each one is riveting. I could not put it down.                                                                                                Reviewed by Jamie Ault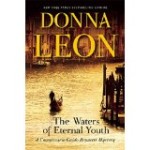 The Waters of Eternal Youth by Donna Leon. (Mystery) Since I can't at the moment take a trip to Venice, having a new Commisario Brunetti is darn near almost as good. This is the 25th book in this series and in no way disappoints. Brunetti's decency plays out in each title, taking place amidst the beauty of Venice but a city so threatened by corruption, pollution and tourist overload. His love for history and the delicious descriptions of how and what Venetians eat–so civilized–are to be savored.
In this one Brunetti revisits an accident which took the life of a young girl, now handicapped–and uses his inborn talent to uncover what really occurred. Pleasure reading of the highest order!                                                                                                                                                Reviewed by Janet Adelberg
Still Life with Bread Crumbs by Anna Quindlan   Rebecca Winter is a 60 year old photographer living in NYC whose successful career and finances are on the wane, therefore this city girl decides to move to rural New York to regroup.  Here she meets a local roofer who has much to teach her about her surroundings and life;  also there are other small town folks who enter her life.  She walks in the nearby woods  and takes photos of objects she doesn't really understand. The book title comes from a series of successful  photographs she had taken in NYC the morning after a party before cleaning up her messy kitchen counter.  These photos made her an unlikely hero for many women who tried to read far more into these pictures than really existed.  I am an Anna Quindlan fan and very much enjoyed this book. There is a Readers' Guide in the back of the book with questions and answers with the author.                                                                                                               Reviewed by Connie Locashio
Non-Fiction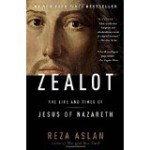 Zealot by Breza Assan.  (Religion) A superb book about life in Judea before, during, and after the lives of John the Baptist and Jesus. Learn about the intertwined relationship between the Temple leadership and the Roman authorities; about their coordinated effort to protect their political and economic interests by spying on the populace and identifying and eliminating "Zealots," such as John and Jesus, who threatened to foment political revolution and religious reform. Reviewed by Bob Stephenson
The Oregon Trail; a new American Journey by Rinker Buck. (American History) I thought I had an inkling of what the hardships must have been like on the Westward journey but never gave a thought to the mechanics of wagons, mules, or repairs.  This read gives a glimpse of all the practical hardships faced by those 400,000 brave adventurous souls of the mid-1800s.  With great humor and insight, Rinker Buck writes a compelling travelogue with genuine affection for his subject.  The author and his brother Nick, both from Maine sound just as tough and as stubborn as the mules they traveled with.  Good read; just wished there were pictures!
Reviewed by Mary Jean Cowing
After Lincoln by A. J. Langguth.  (American Civil War) When the fighting of the Civil War ended, the war of objectives continued. Do we give plantation land to former slaves and break Southern culture? Do we use federal troops to ensure the rights of former slaves? The answers to these questions were left to the states, and the South reverted back to its pre-war political environment. In the end, we pushed west.  Reviewed by Bob Stephenson
Stand Firm Ye Boys from Maine: The 20th Maine at Gettysburg by Thomas Des Jardins. ( American Civil War–Maine) This book is about the role of the 20th Maine at Gettysburg, but it is much more. It highlights the importance of leadership in defining the objective and leading men to accomplish it, as demonstrated by Gen. John Buford, Gen. Reynolds, Strong Vincent and Joshua Chamberlain. Good leaders make it happen.                                                            Reviewed by Bob Stephenson
Killing Jesus by Stephen Mansfield.  (Religion) John the Baptist and Jesus both lived in Judaea, a territory occupied by the Romans, and in the economic monopoly which was the Temple complex. They chose to challenge this oppressive combination, as did many before and after them. The choice cost them their lives. Power does not give up power without a fight.                                                                          Reviewed by Bob Stephenson
The Hare With Amber Eyes: A Family's Century of Art and Loss by Edmund de Waal. (World War II) The Ephrussi family once rivalled the Rothchilds in wealth and power. Then the Holocaust came, the Nazis seized a fortune in fine art and furniture, and the family dispersed. Descendant de Waal, England's distinguished potter and also a fine writer, leaves his London studio to research the family's history, especially in Vienna, where, in the huge and once sumptuous Palais Ephrussi, a loyal servant had hidden from the Nazis a collection of Japanese "netsuke" (carved miniatures) from the Nazis. They become de Waal's only tangible connection to his family's past. I could go on forever about this book, praised as "on the same shelf as Nabokov's 'Speak, Memory'," but will just say it held me captive all through and still haunts my imagination.                                                                                     Reviewed by Betsy Bowen
Sailing Alone Around the World by Captain Joshua Slocum. (Sea Adventures). In 1895, an "old salt" sailed out of Boston harbor to attempt the first solo circumnavigation of the world.  He returned three years later, goal accomplished. Hair-raising adventures cram the story — from a chase by Moorish pirates off Gibraltar to capsizing under a great wave off the Patagonian coast — all told in the terse, stoical voice of a dyed-in-the-wool Yankee.  Especially if you love understated humor, words like port and starboard, abeam and astern, and the taste of a strong sea wind in your face, you'll want to read this book.                                                                                                                                       Reviewed by Betsy Bowen 
Young Adult for ALL AGES
Salt to the Sea by Ruta Sepetys.   In January, 1945 in East Prussia, the disaster of the sinking of the ship, the Wilhelm Gustloff with the loss of 9,000 lives, was only one of the casualties of refugees fleeing the advance of the Red Army. The narrative is told by four main characters: Joana, a nurse; Emilia, a pregnant teenager; Florian, a young man with secrets; and Alfred, a German soldier who wants more than anything to receive a medal.   This book is a must read for young adults 8th grade and older and all "grown ups".  It is the story about  the tragedy of civilians and refugees caught in the senseless brutality of war. I can honestly say, I will never forget their story. This book is a new acquisition at the Cary Library.   Reviewed by Jill Howes
Redwall series by Brian Jacques. (Young Adult Fantasy Fiction) Do you only check the "adult" books when you come to the library?  You're missing out! There are many books in the youth  and teen shelves to be enjoyed.  This month's recommendation is the Redwall series by Brian Jacques.  A 22 volume series of the adventures of the woodland creatures of Redwall Abbey  and their conflicts with the "evil" rats and stoats. If your family has not already read these delightful books, read them aloud.                          Reviewed by Bill Chellis