Welcome to Wayne's Cary Memorial Library
207/685-3612 jadelbergcml@gmail.com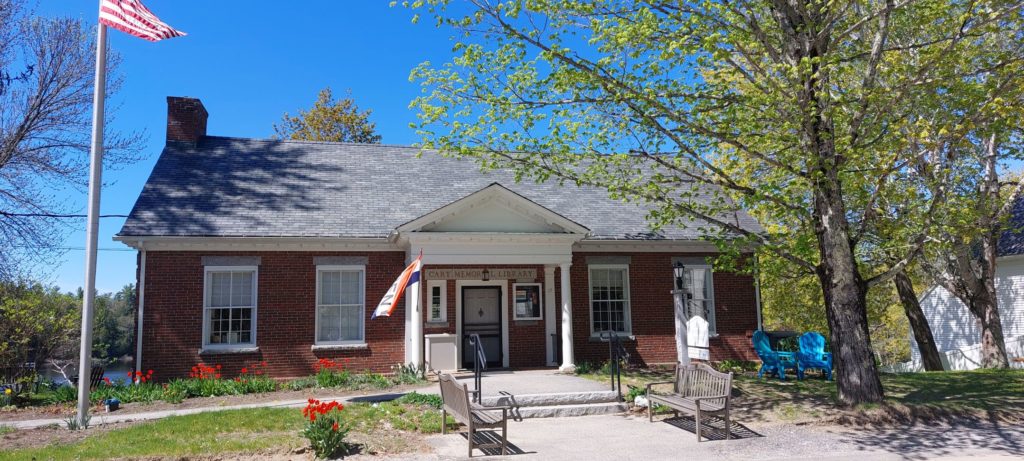 Welcome to Wayne's Cary Memorial Library. Please note our hours on the banner above. Scroll down to find out about our happenings for young and old alike. For questions email: jadelbergcml@gmail.com. or phone 207 685-3612.
As of July 2022, masking is optional. Please don't visit the library if you feel unwell. We do have masks if you'd like one. The library is not not usually crowded but it doesn't hurt to maintain a bit of social distance when you can.

Contact the library for password.
---
WEDNESDAY. June 7, 2023 6:00 to 7:00 pm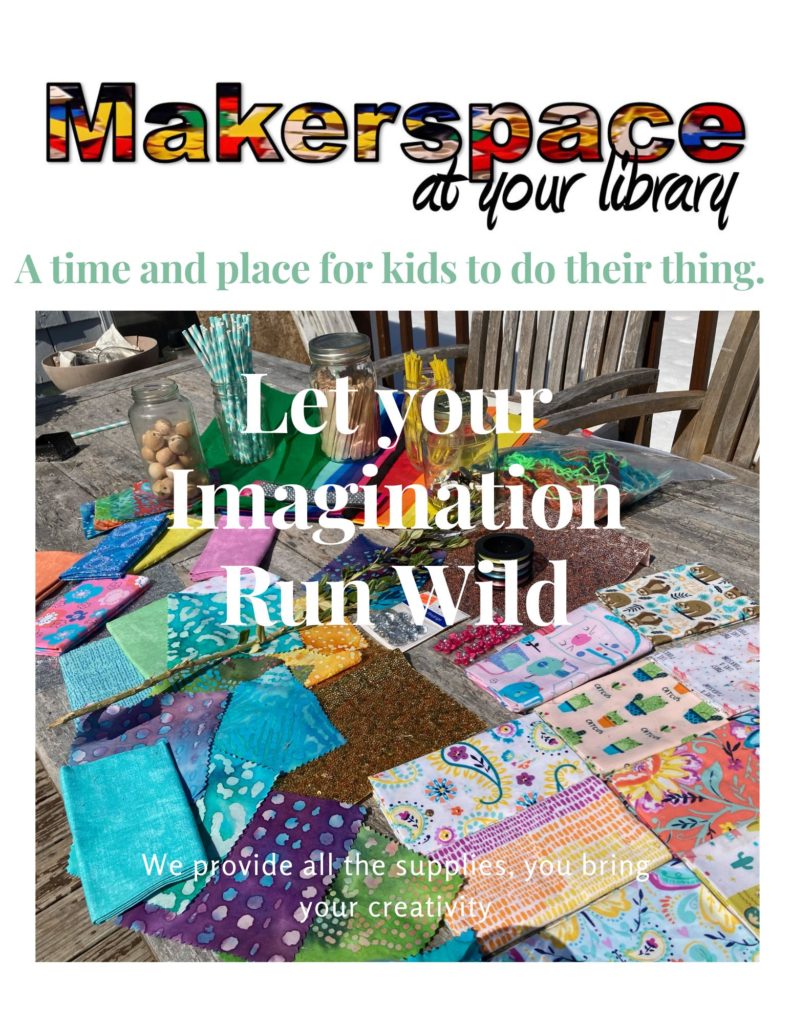 Come on down and let your imagination run wild at the Maker's Space! We have all the craft supplies you could want to make a castle, spaceship, dollhouse, dragon, whatever you can dream up! We have cardboard, fabric, popsicle sticks, buttons, yarn, gems, straws, markers, glue and more!
All you have to bring is your creativity!
---
MONDAY, June 12, 2023 1:15 PM to 2:15 PM
Join us for a discussion of Lessons in Chemistry by Bonnie Garmus. We will meet in the library and on-line. If you are interested in joining by Zoom, contact information is available from Janet at 207/685-3512.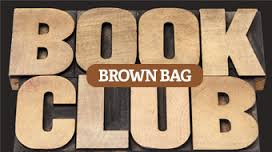 This novel is "irresistible, satisfying and full of fuel" (The New York Times Book Review) and "witty, sometimes hilarious…the Catch-22 of early feminism" (Stephen King, via Twitter).
---
Starting SATURDAY, June 17, 2023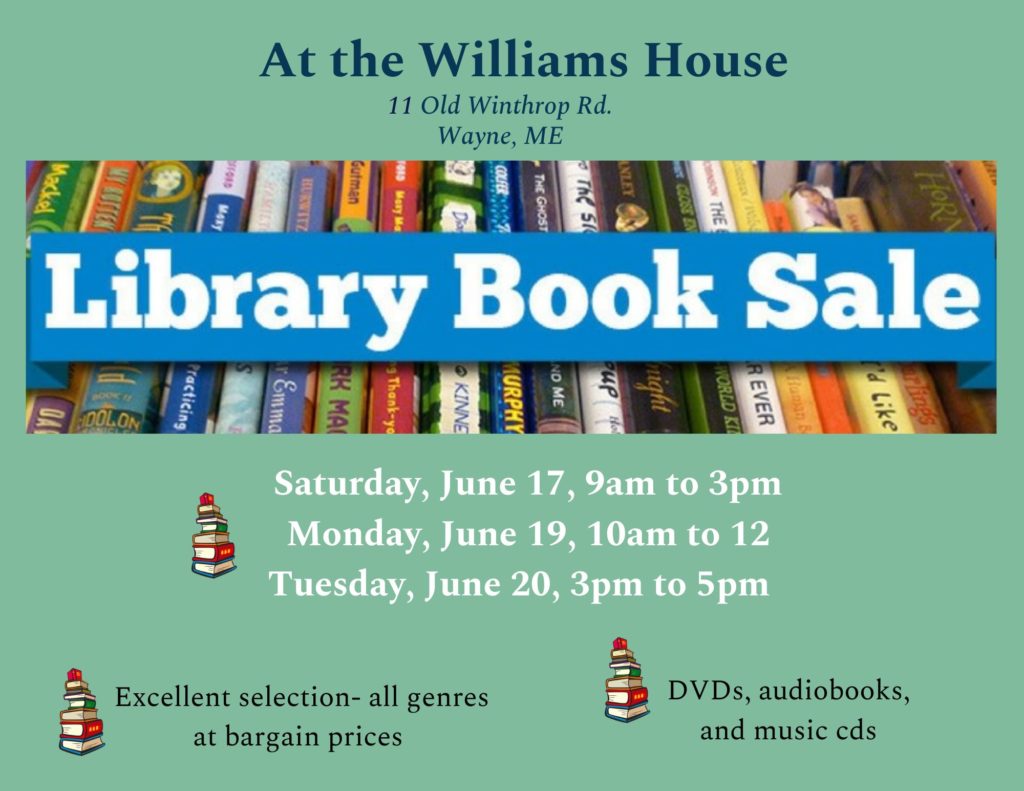 Super Summer Book Sale
Our Booksale Team has sorted and culled through many donations and we've saved the best for you. Come browse in all genres and stock up on good books at bargain prices. We have some gens, so come check out the sale.
---
What a great way to keep your child's reading skills sharp. We make it fun and our flexible program works for babies through Middle School. Reading logs will be ready up pick up in the library or download on June 17. Reward coupon thanks to TUBBY'S ICE CREAM, Wayne.
---
MONDAY, June 19, 2023

---
TUESDAY, June 20, 2023
Summer Hours Begin
Monday 9-3
Tuesday 2-7
Wednesday 1-7
Thursday 2-7
Saturday 9-3
CLOSED FRIDAY and SUNDAY
---
WEDNESDAY, June 21, 2023 6:00 PM to 7:00 PM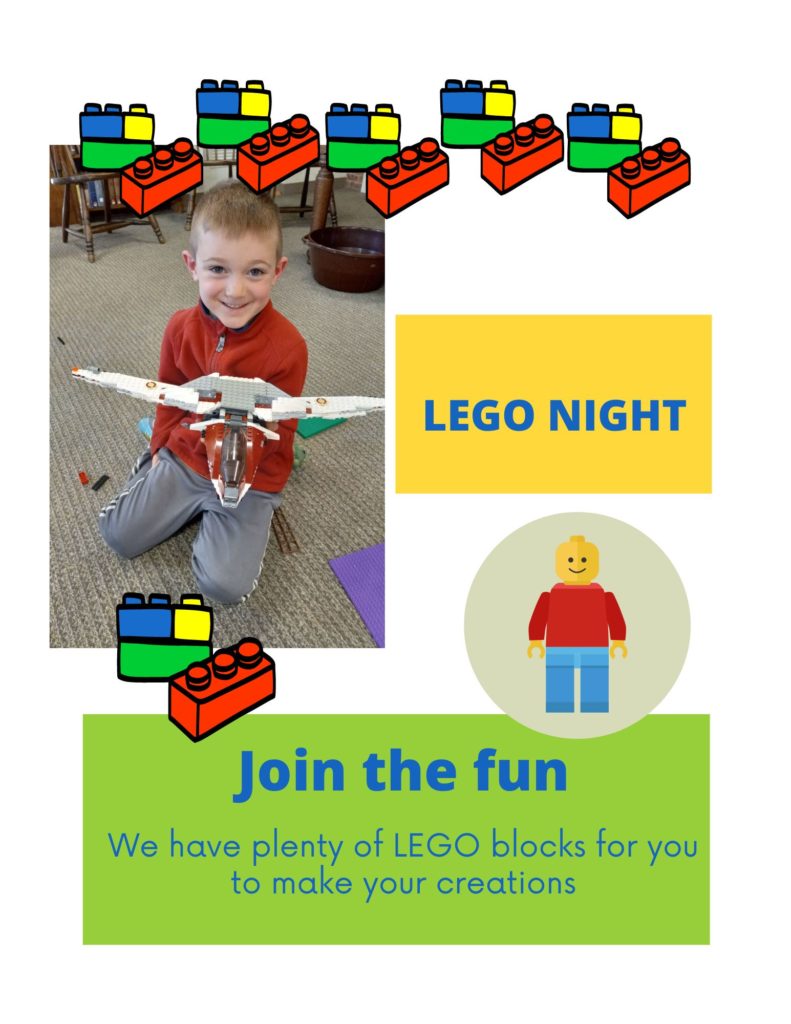 SATURDAY, August 12, 2023 9:00am
---
Cary 5K Walk Run
Runners, walkers, strollers, and leashed pets
are all welcome! The gently rolling course starts and ends at the
Wayne Elementary School, with familiar landmarks along the
way including the Ladd Center, the General Store, Memorial
Park, Cobbies, and of course the library. First place male and
female finishers will receive a prize, and all children will receive a
Tubby's voucher. Registration begins at 8:15 at the Wayne
Elementary School. Forms and fees ($15/adult,
$5/kid) can be dropped off at the library or mailed to Cary
Memorial Library, PO Box 127, Wayne 04284. FMI: 685-3612 or
jadelbergcml@gmail.com
---
Introducing Bendable Maine, a robust learning marketplace, in partnership with the Maine State Library.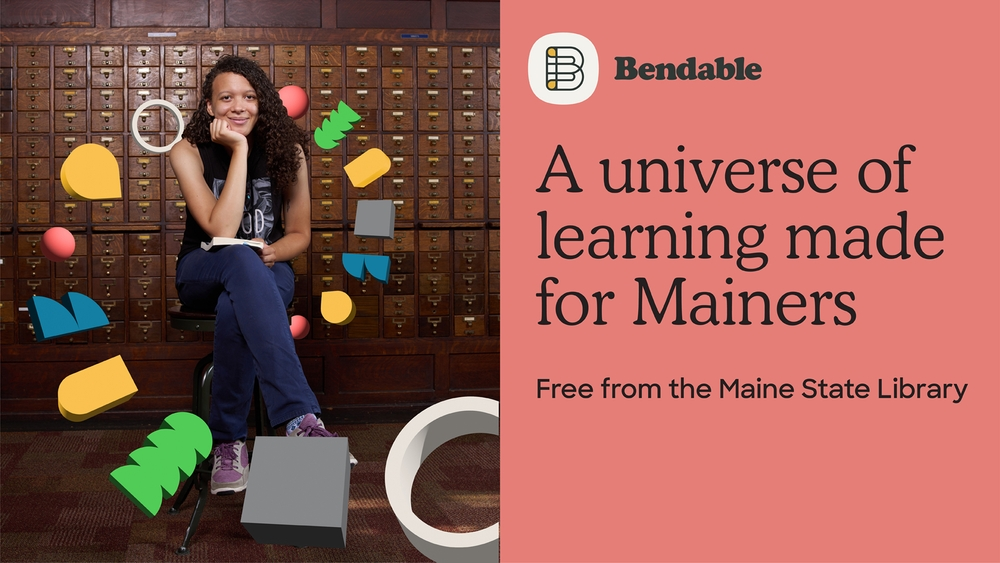 ---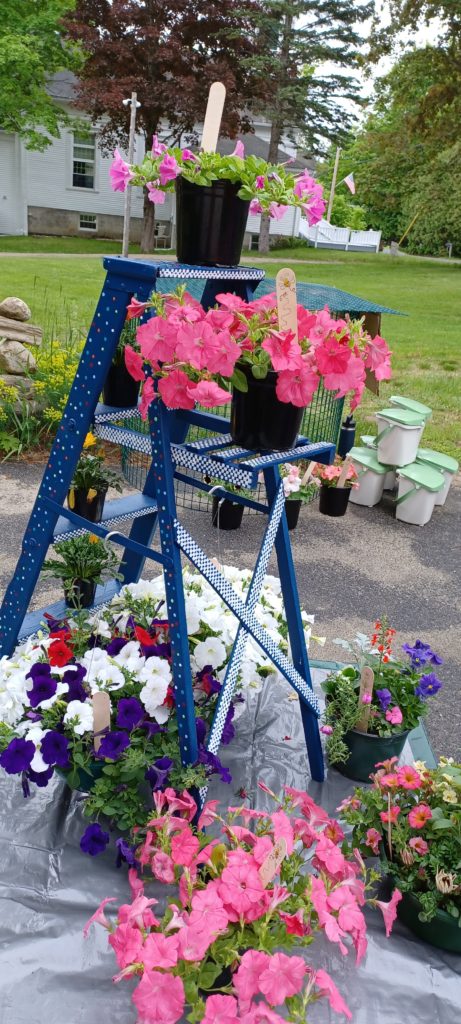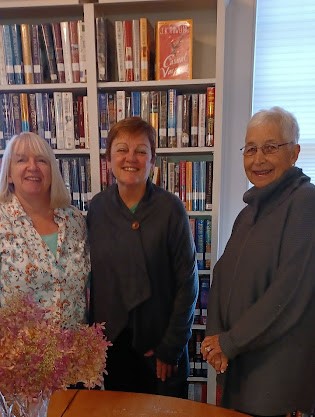 Come join us in supporting our wonderful library. New activities in 2023.
---
We will coordinate plans for the Spring Plant and Bake Sale on Sat. morning May 27, as well as for the FOL Pie Sale, traditionally held early July. Please consider offering to coordinate either of these fun fundraisers. (Two friends co-chairing either would be fabulous. And FUN.)
The 2023 New Sandwich Raffle Quilt will be unveiled at the Plant & Bake Sale. Tickets will be $2.00 ea or 3 for $5.00
Volunteers for our FOL events are always welcome. Contact Jo Moore or MT Clark for more information; 685-3612.
---
---
---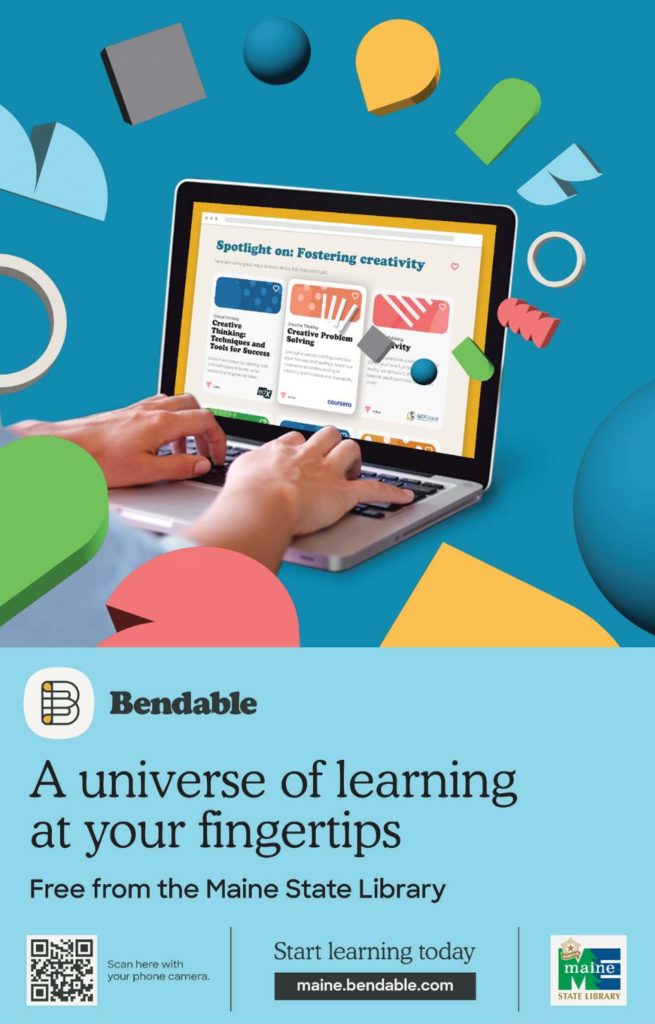 Bendable Maine is being built as a community-centered lifelong learning system created by the Drucker Institute, a nonprofit social enterprise based at Claremont Graduate University. It allows residents of all ages and backgrounds to easily acquire new knowledge and skills through online courses as well as in-person learning opportunities.
The learning system's aim is to make the residents of Maine more resilient in the face of a fast-changing economy. It is truly lifelong and universal but is focused, above all, on reaching those in the Maine community who have been most underserved.
---
---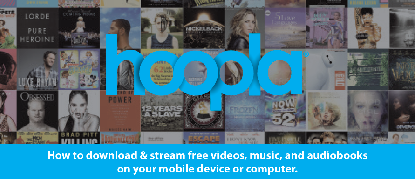 Cary's Library's HOOPLA IS LIVE!: Exciting News if you enjoy streaming/downloading Movies, Music, eBooks, Audiobooks and Comics: We are going live with our Hoopla account as of now. Their content is pretty amazing–over 1.1 million items, most available instantly. Download the Hoopla app for your devices with Google Play store or your Apps Store . The website is: https://www.hoopladigital.com/my/hoopla if you are using a desktop.
You will need to "create an account" using your email and a password you choose. You will see libraries listed–select Cary Memorial Library, Wayne, ME and then you'll be asked for your patron number. REQUEST your barcode by sending an email to jadelbergCML@gmail.com or stop by the library to get your number. After your account is set up, you will only need your email and password to use Hoopla.
We will be sharing lots of promotional materials soon. Please reach out to Janet for assistance. Hoopla is said to be super easy to use so we hope you'll enjoy this new service. Our use limit is 5 "borrows" per month per patron. This is a Free Service available to all Cary Memorial Library patrons.
---
Thanks to all the who have donated puzzles. We have refreshed the library collection–come see what's new.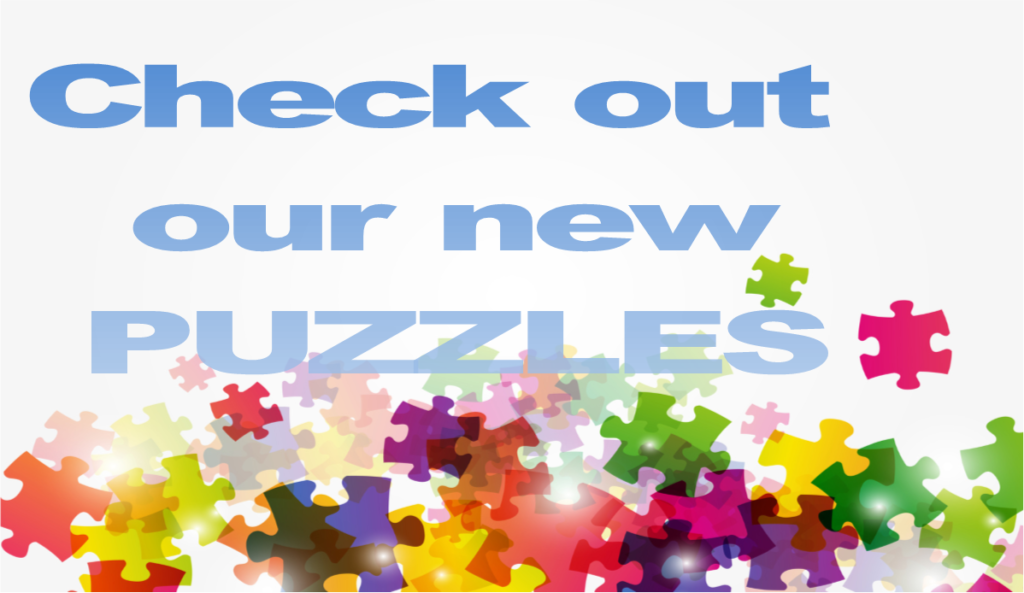 ---
---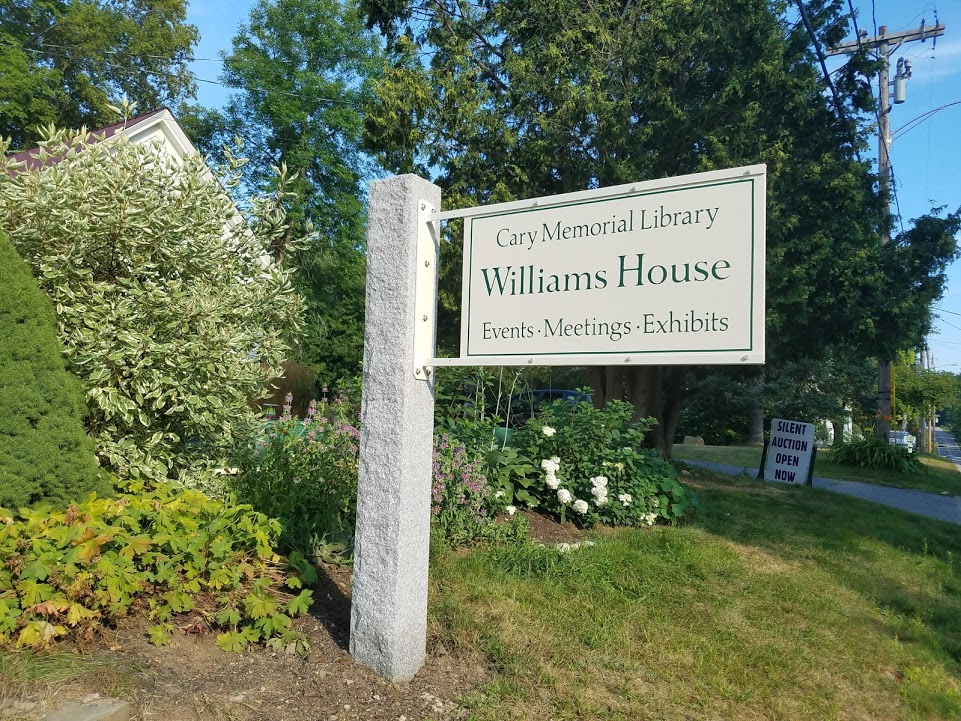 The Williams House is currently open by appointment for anyone wishing to browse Boutique items, or the 3 rooms of books for sale, $1.00 hardcover/50 cents paperbacks. Call Holly, 685-9005 or Cindy 685-4235–we are happy to open up for you! The Alice in Wonderland Room also open by appointment and during First Saturdays. Programming and rentals are available.
---
Wayne Business Map
New and now available at the library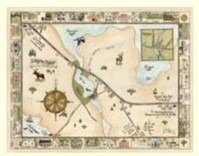 The library has collaborated with the Town of Wayne to create a beautiful 11″ x 17″ full color map of Wayne featuring art designed by Hallowell artist Jen Cart. To view a digital version of this map and a Wayne Business Directory visit: waynemaine.com Thanks to Margot Gyorgy for coordinating this project. Copies available at the library with suggested donation of $2.00.
---
---
Wayne Readers' Book Blog

Wayne Reader's Blog: The next edition will be compiled later this winter, so there's still time to contribute. Please send along your brief reviews of books that have piqued your interest–for better or worse. The variety of your blurbs is what makes the Reader's Blog fun. Email your reviews to me. Click here for the January 2023 Blog.
---
---