---

Library closed May 30, 2022 in observation of Memorial Day. We will reopen 3:00-5:00 pm on Tuesday.
Welcome to Wayne's Cary Memorial Library
207/685-3612 jadelbergcml@gmail.com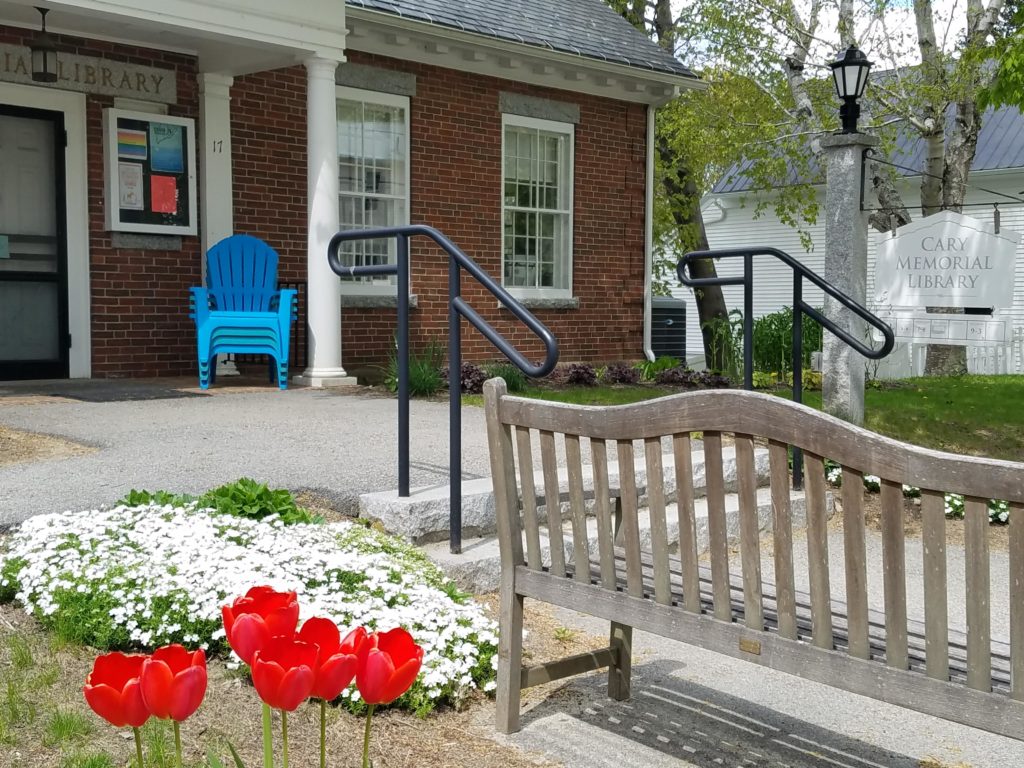 As we move into the spring season we remain open with Covid-19 Safety practices in place. (Note our winter hours on the banner above.) Please plan a quick visit in and out, or call (685-3612) or email (jadelbergcml@gmail.com) to arrange a Porch Pick-Up. If you are not feeling well please postpone your visit or request Porch Pick-Up Any questions–please reach out to the librarian. Check this website or phone the library for winter weather closures.
---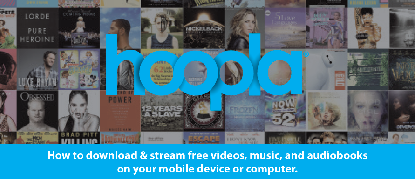 Cary's Library's HOOPLA IS LIVE!: Exciting News if you enjoy streaming/downloading Movies, Music, eBooks, Audiobooks and Comics: We are going live with our Hoopla account as of now. Their content is pretty amazing–over 1.1 million items, most available instantly. Download the Hoopla app for your devices with Google Play store or your Apps Store . The website is: https://www.hoopladigital.com/my/hoopla if you are using a desktop.
You will need to "create an account" using your email and a password you choose. You will see libraries listed–select Cary Memorial Library, Wayne, ME and then you'll be asked for your patron number. REQUEST your barcode by sending an email to jadelbergCML@gmail.com or stop by the library to get your number. After your account is set up, you will only need your email and password to use Hoopla.
We will be sharing lots of promotional materials soon. Please reach out to Janet for assistance. Hoopla is said to be super easy to use so we hope you'll enjoy this new service. Our use limit is 5 "borrows" per month per patron. This is a Free Service available to all Cary Memorial Library patrons.
---
Saturday, June 4, 2022. 9:00 am to Noon
---
The Cary Library's Williams House will be open and if weather cooperates we'll have some tables outside, as well as inside. We hope you'll stop by to visit with neighbors and meet some new folks. Enjoy Homemade BRUNCH items, coffee and tea (TO GO is available); browse an abundance of gently used BOOKS and a fabulous selection of BOUTIQUE gems.  Lots of 'camp' items, many children's books & games, toys as well as items for the garden, vintage fireplace items and linens, art, cookware, clocks, silver and pewter.  Hope to see you.
---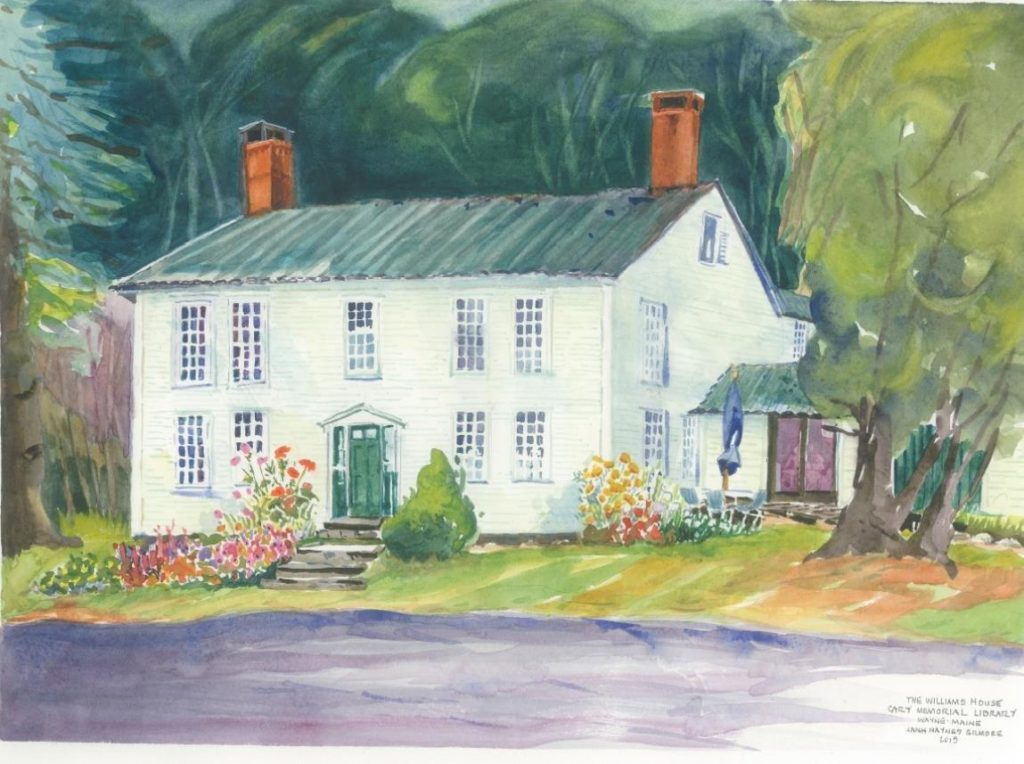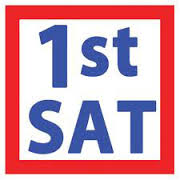 ---
---
MONDAY, June 13, 2022 1:30 pm
The library usually has a few copies of each book to lend. Join us under the outdoor tent, weather permitting.
In the tradition of Friday Night Lights and Outcasts United, One Goal tells the inspiring story of the soccer team in a town bristling with racial tension that united Somali refugees and multi-generation Mainers in their quest for state — and ultimately national — glory.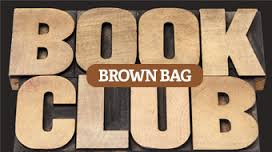 ---
SATURDAY, June 18, 2022 until September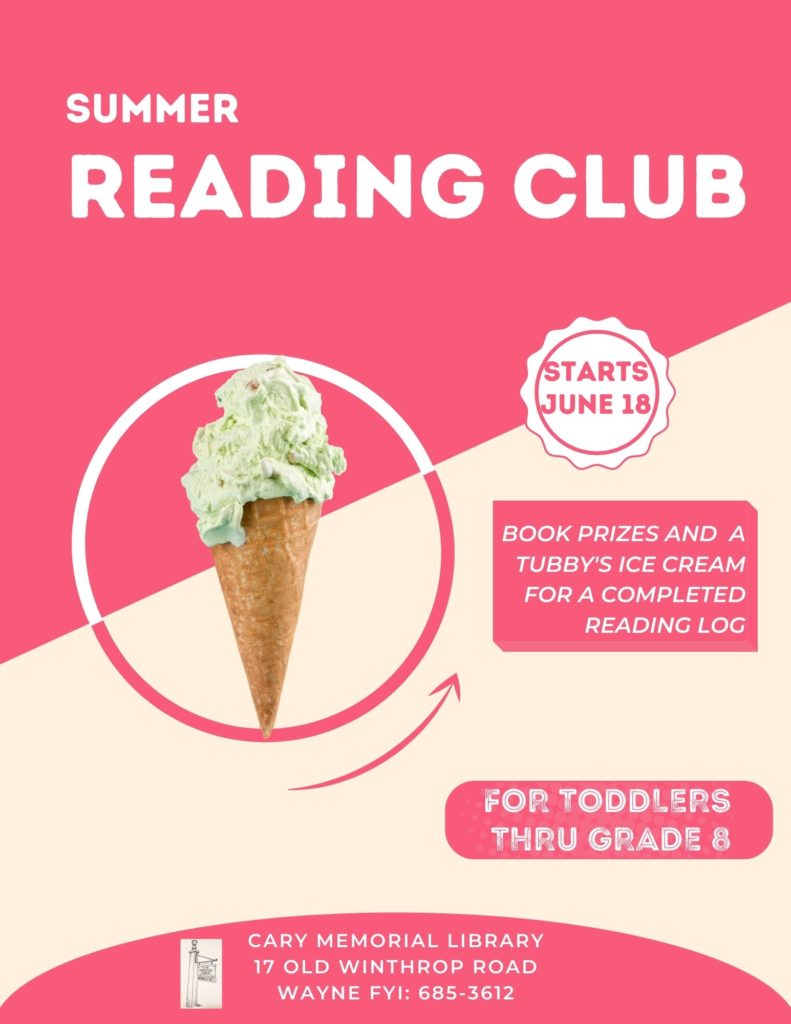 We plan our traditional summer reading club and hope your kids (toddler up through Middle Schooler) will take part. We make it work for every reading level and every length our your Wayne stay.
Sign up at the library and receive your Reading Log.
---
MONDAY, June 27, 2022 6:00 pm
Wayne Library Monthly Board Meetings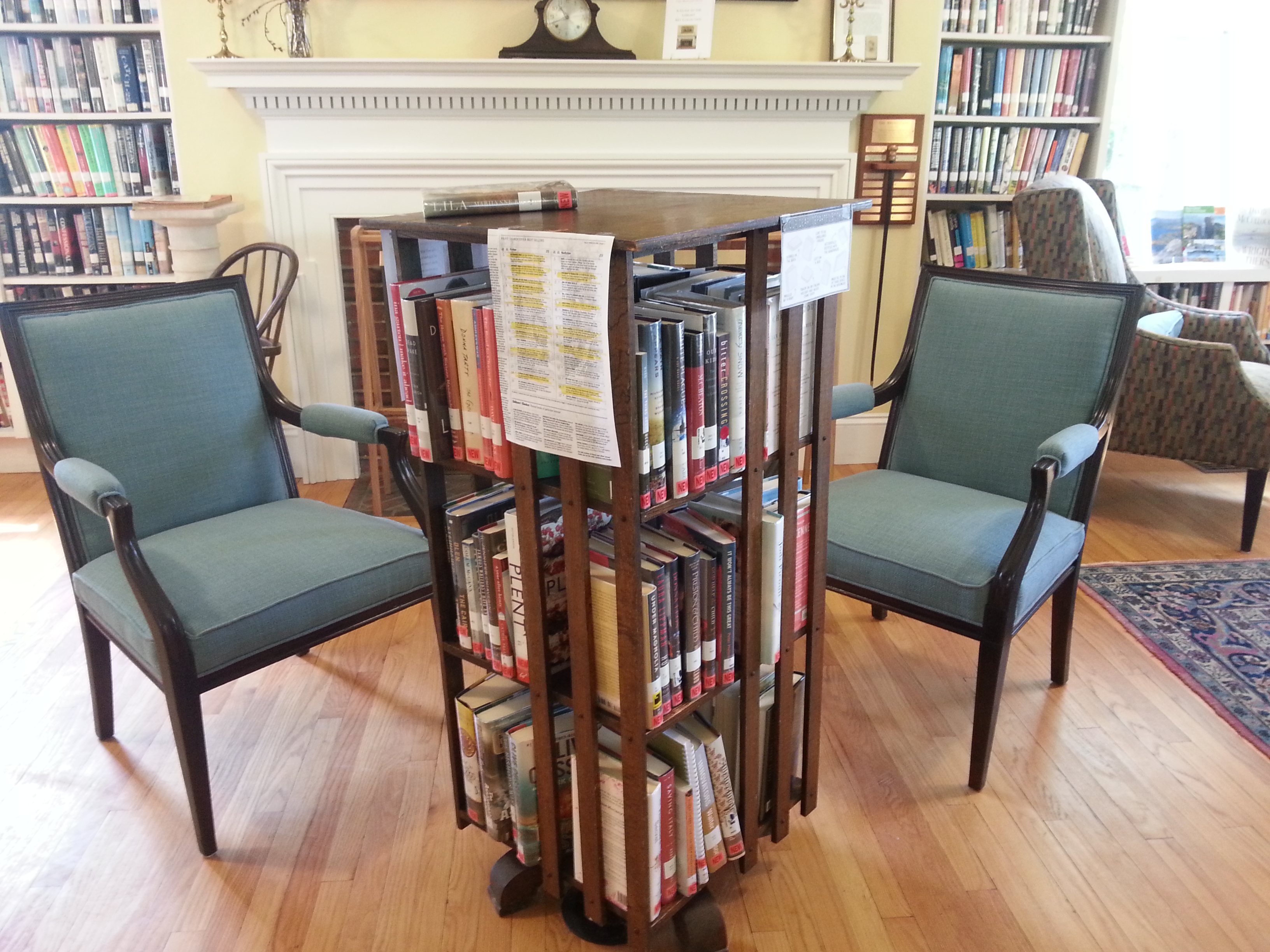 Any member of the Wayne Library Association is welcome to attend. We are currently meeting outside under the tent.
---
---
SATURDAY, August 13, 2022 9:00 am
Join us for the 10th annual Cary Memorial Library 5K on Sat. August 13 at 9AM. Runners, walkers, strollers, and leashed pets are all welcome! The gently rolling course starts and ends at the Wayne Elementary School, with familiar landmarks along the way including the Ladd Center, the General Store, Memorial Park, Cobbies, and of course the library. First place male and female finishers will receive a prize, and all children will receive a Tubby's voucher. Registration begins at 8:15 at the Wayne Elementary School, with forms below. Forms and fees ($15/adult, $5/kid) can be dropped off at the library or mailed to Cary Memorial Library, PO Box 127, Wayne 04284. FMI: 685-3612 or jadelbergcml@gmail.com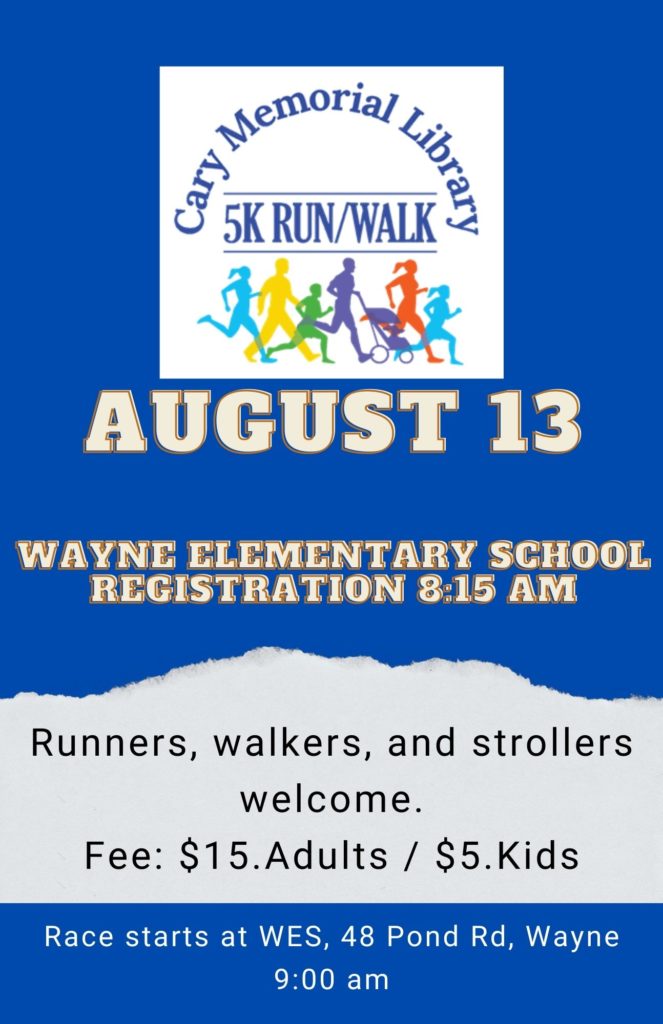 ---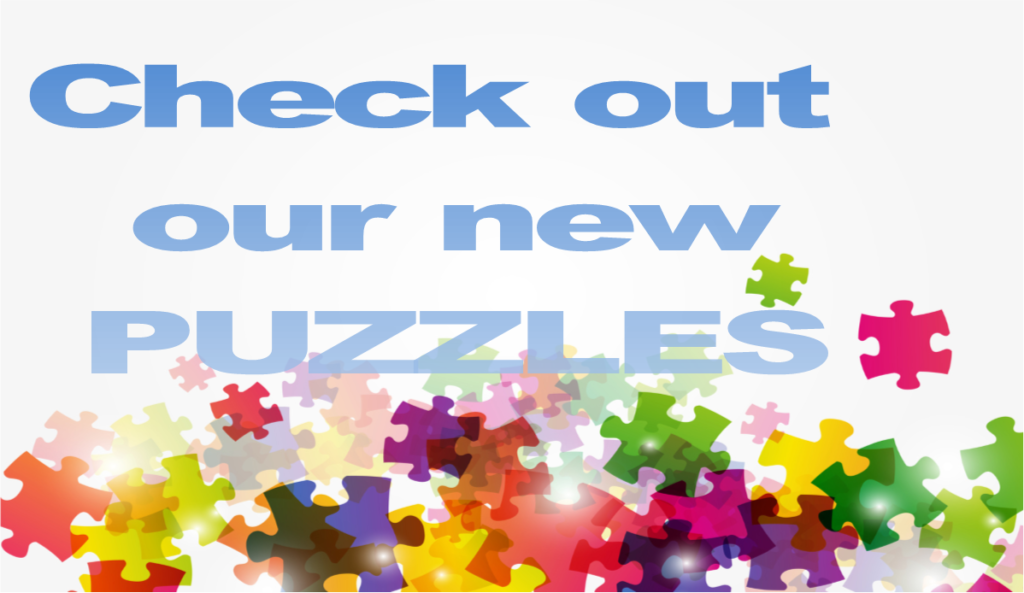 Thanks to all the who have donated puzzles. We have refreshed the library collection–come see what's new.
---
Do you want a Compost Bin?
---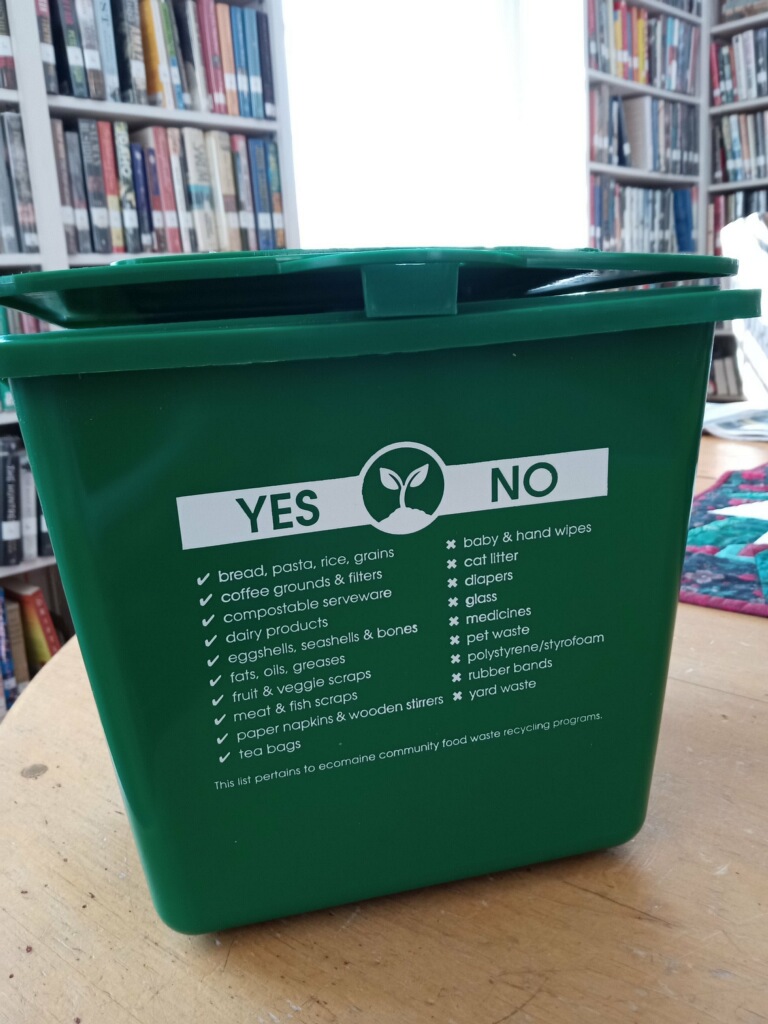 Free Compost Buckets Offered by Wayne Solid Waste & Recycling Committee: We are partnering with the Wayne Solid Waste and Recycling Committee to help spread the word about composting. Did you know the average citizen produces 150-200 lbs. of food waste each year? View the very informative 38 minute educational video featuring Mark King of the Maine DEP and learn about simple steps you can take to reduce food waste. Thanks to the team's grant, we'll have a supply of tabletop/under counter compost buckets to distribute for your own composting or to take to the Transfer Station. The link for the video: https://www.youtube.com/watch?v=eXDGQBsf07w
---
---

Upcoming Events:
May 28-1st Annual Cary Memorial Plant and Bake Sale. Annuals, Perennials, anf flowering baskets locally grown at Gingerbread Farms.
The unveiling of the 2022 New Sandwich Raffle Quilt
---
July 2-The annual favorite Pie Sale
---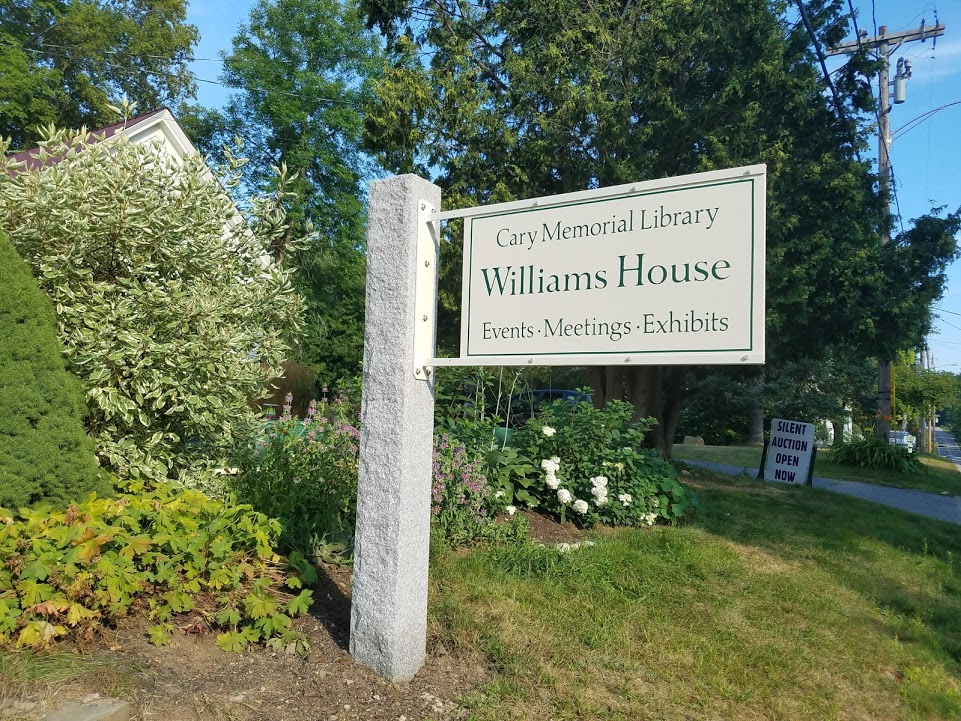 The Williams House is currently open by appointment for anyone wishing to browse Boutique items, or the 3 rooms of books for sale, $1.00 hardcover/50 cents paperbacks. Call Holly, 685-9005 or Cindy 685-4235–we are happy to open up for you! The Alice in Wonderland Room also open by appointment and during First Saturdays. Programming and rentals are available.
---
Wayne Business Map
New and now available at the library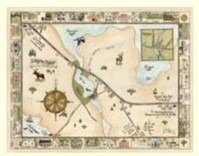 The library has collaborated with the Town of Wayne to create a beautiful 11″ x 17″ full color map of Wayne featuring art designed by Hallowell artist Jen Cart. To view a digital version of this map and a Wayne Business Directory visit: waynemaine.com Thanks to Margot Gyorgy for coordinating this project. Copies available at the library with suggested donation of $2.00.
---
---
Wayne Readers' Book Blog

Wayne Reader's Blog: The next edition will be compiled later this winter, so there's still time to contribute. Please send along your brief reviews of books that have piqued your interest–for better or worse. The variety of your blurbs is what makes the Reader's Blog fun. Email your reviews to me. Click here for the May 2022 Blog.
---
---