Free Wi-Fi is available inside and outside the library. The PASSWORD can be obtained in the library.
Library Hours
Day
Open
Close
Monday
9:00
1:00
Tuesday
3:00
5:00
Wednesday
1:00
7:00
Thursday
3:00
5:00
Friday
CLOSED
Saturday
9:00
3:00
Sunday
CLOSED
Upcoming Events and Activities
Alice Room
2023
Various Times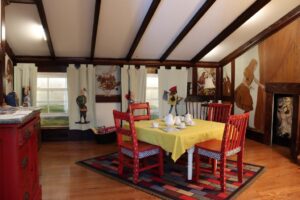 A town treasure. Alice's Adventures in Wonderland Room project is now complete. There are 17 art panels that have been refreshed, restored, and protected. You are invited to come for a visit.
1st Saturdays 9:00-Noon
By Appointment
Story Time
Mondays
10:00 am
Weekly storytime every Monday at 10am. We'll share a short story or two, maybe a song, have time to play at the train table and spend time with new friends. All little ones and their grown-ups welcome.
Fall Used
Book Sale
September 23
9:00 am to 3:00 pm
Wayne is a well-read community. We know this because the library is well-used and supported and …because we are given many, many good used books for our book sales. We expect to have a fine selection of all genres, including good children's books, a large selection of cook books, large print books, and more. Come browse and treat yourself to a bag full of books–ready for those quiet winter days. Note: only books in very nice conditions can be accepted, thank you for understanding.
FOL Fall Planning Meeting
September 30
9:30 to 10:30 am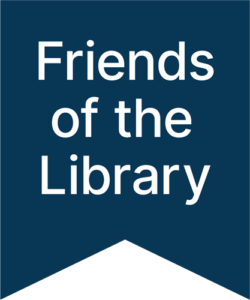 All FOL members and anyone interested are invited to our Fall Planning Meeting. We'll hear the year's round-up of successful programs, choose new co-chairs, and make plans going forward. We'd love to have your participation.
Also,Please watch for our Fall Spring Bulb Sale in late September. (If you've wanted early Snowdrops Grape Hyacinth, Scilla, Early Snow Glories and Crocus in your Spring garden, here's your chance.)
And, if you enjoyed the November Soup-to-Go Sale last year, stay tuned for updates as we get into Fall.
1st Saturdays at the
Williams House
October 7, 2023
9:00 am to Noon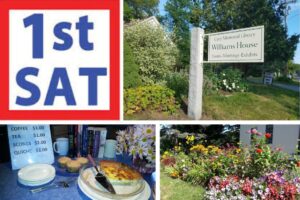 We'll be here from nine until noon with our usual delicious coffee and goodies prepared by our generous volunteers.
Please plan to stop by.
There are shelves of books and many boutique items including Bennington pottery mugs, a colorful turkey platter, a variety of things to hang on walls and some Halloween and fall items.
A nice day will have books and tables and chairs outside.
The Alice in Wonderland Room will be open and also is available by appointment.
We look forward to seeing you.
Maker's Space For Kids
October 11, 2023
6:00 pm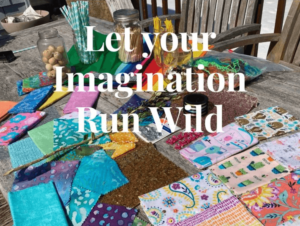 We will have craft supplies galore. Come on down and let your imagination run wild at The Maker's Space!
Make a castle, spaceship, dollhouse, dragon, whatever you can dream up! We have cardboard, fabric, popsicle sticks, buttons, yarn, gems, straws, markers, glue and more! All you have to bring is your creativity!
Book Group
Monthly Event
October 16
1:15 to 2:15 pm
NEW YORK TIMES BESTSELLER • "Alternatingly heart-pounding and heartbreaking. This collaboration between two best-selling authors seamlessly weaves together Olivia and Lily's journeys, creating a provocative exploration of the strength that love and acceptance require."—The Washington Post
Borrowing copies available at the library.
If you are interested in attending via Zoom, please contact Janet Adelberg at 685-3612.
Dave Moreau Presents
So the Ballpark Contains the Ball
October 18
6:30 pm
Wayne resident David Moreau will present part two of his novel in progress – being the memoir of the mythical lefthander, Joe Parent, aka T'Joe or Little Joe, who won 193 games in the Major leagues.
It is 1968. Our nation is divided. Joe Parent is now an old man, alone on top of his hill, remembering…. The reading is free and all listeners are welcome. As always, adventure of the spirit is guaranteed.
Join us for this lively evening.
Bald Eagles, Bear Cubs and Hermit Bill by Ron Joseph
October 23
6:30 to 8:30 pm
Wayne's Cary Memorial Library and the Kennebec Land Trust are delighted to co-sponsor retired wildlife biologist Ron Joseph. Ron will be reading selections from his new book Bald Eagles, Bear Cubs and Hermit Bill: Memoirs of a Wildlife Biologist in Maine. Copies of the book will be available for purchase and signing. Ron Joseph grew up in central Maine, learning life lessons on his grandparent's dairy farm, and then spent more than thirty years working as a wildlife biologist. Bald Eagles, Bear Cubs, and Hermit Bill is a compilation of forty stories that range from his youth to his working life to profiles of the people he has met along the way. Ron serves on the KLT Advisory Board. For more information call the library at 685-3612, or check KLT website at
www.tklt.org.
CML
Annual Meeting
October 30
6:30 pm
Please Join us for the Wayne Library Association's Annual Meeting
Greetings all Wayne Library Association Members
Different reports are presented, and library finances, events and accomplishments are reviewed. All members are welcome and encouraged to attend.

We have had such wonderful support from our library community, and remain grateful to all of you. We welcome your participation and all are invited. Please join us!

Don Welsh, President, Wayne Library Board of Trustees
FOL 2023 Quilt
On Sale Until December

"Kathy's Roses" is the 32nd quilt created by the New Sandwich Quilters of Wayne. Raffle tickets are $5. for 3 or $2. for 1. The drawing will be in December. Tickets are available at events in Wayne during the summer and at the library and at many Williams House events.
Harvest time at the Williams House Tower Garden
You'll see the greens in the tower on the Williams House patio. Please feel free to pinch off a serving or two and leave the plant to continue producing.
Greens, basil and lettuces are ready.
Selected Photos of Cary Library, Williams House, & Special Events
Library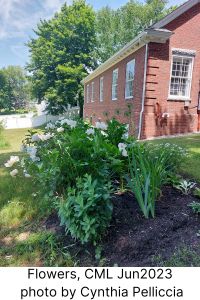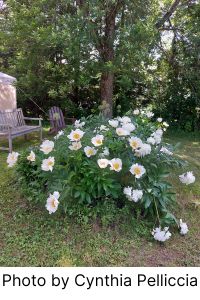 Williams House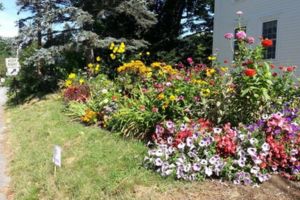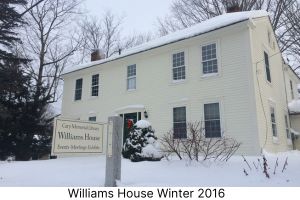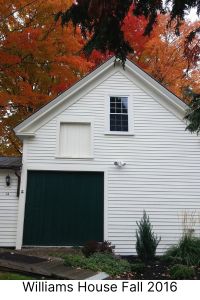 Events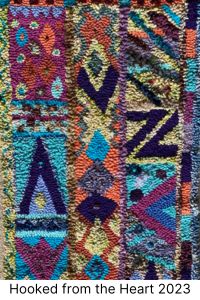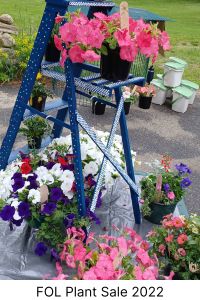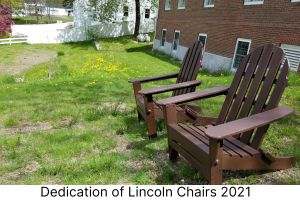 Cary Memorial Library News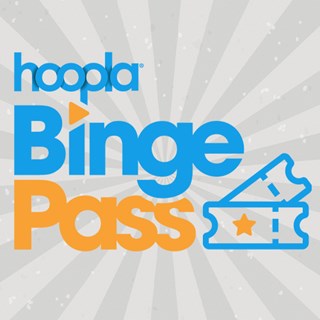 Hallmark Movies Now BingePass available on Hoopla
Seamlessly stream stories with heart with the Hallmark Movies Now BingePass on hoopla! Enjoy your favorite feel-good films and series for free with your library card!
The Hallmark Movies Now BingePass on hoopla gives you unlimited access to the entire Hallmark Movies Now on-demand library. Curl up with top-rated series like When Calls the Heart, Chesapeake Shores, The Way Home and more! https://hoopla.app.link/8MkTtheDzAb